We are happy to have you on board! Lets have an unforgettable time, together .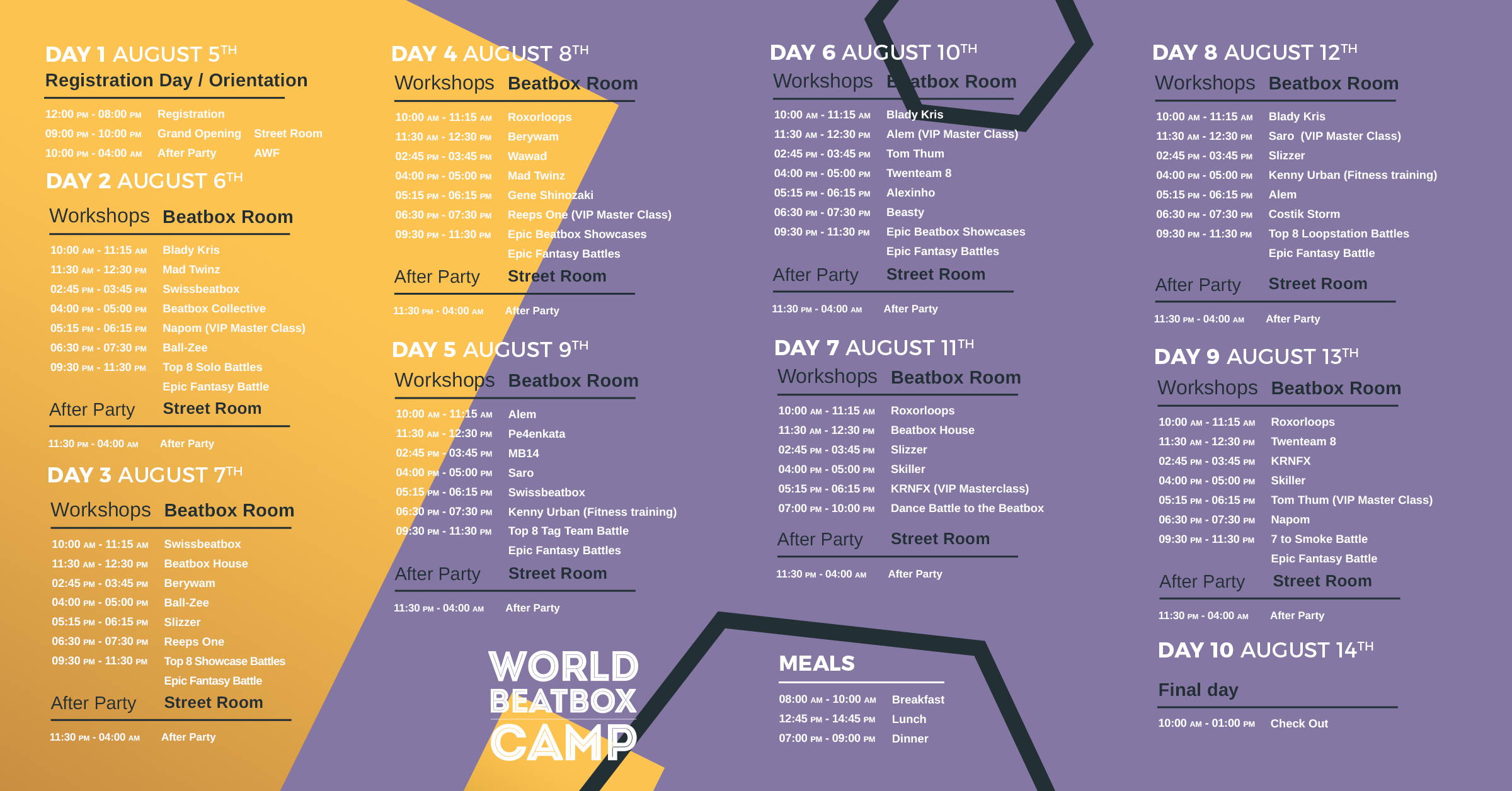 Check out all the info you need to start the camp:
At 09:00 p.m. local time we meet in the Beatbox room for the official opening of the World Beatbox Camp!
WBC HOSTEL:

The Accomodation is located in Cracow University of Technology (in Polish: Domy Studenckie Politechniki Krakowskiej).
Location: Students House no 1 called "RUMCAJS",   ul. Skarżyńskiego 3 , Cracow, Poland (In Polish: Dom Studencki Nr 1 "RUMCAJS", ul. Skarżyńskiego 3 , Kraków.
Rooms description:
Students houses offer economic standard of accommodation typical for hostels of this type.

The rooms are arranged in sets with 1 bathroom (1 set = 2 double rooms + 2 single rooms + 1 bathroom with toilet, 2 washbasins and 1 shower).

The rooms have an RJ45 socket, so you need your own cable (and your laptop or wifi router) to use the internet in your room. WIFI is an option (charged extra).

Rooms are equipped with bedding

There is a fridge in every room.

Please bring TOWELS

There are no towels, hair dryers, irons or soap,

There is self-service laundry (extra fee).  

bring extra bed sheets or other accessories (like shower gel, soap etc) if you like to feel at home for these 10 days. Optionally there are stores nearby: like

LIDL

or

KROKUS

 

 
Checking in on 5 August from 12:00 p.m , checking out on 14 August at 10:00 a.m .
HOSTEL GATES ARE CLOSED AT 22:00. LET IN PASSWO RD IS: " BEATBOX CAMP "
ATTENTION: Camp participants have to check in at the hostel reception on the day they arrive and check out on the day they leave (please, show up there, even if your roommate has already left there your room key).
HOW TO GET THERE:

WBC WORKSHOPS:

Workshops will take place at:
UNIVERSITY OF PHYSICAL EDUCATION in Krakow
(commonly known as AWF – say Ah Voo Eff – from the initial of its Polish name: AKADEMIA WYCHOWANIA FIZYCZNEGO).
STREET : Al. Jana Pawła II 78
Entry from Nowohucka Street (only available gate for our participants, cars should be left outside).
Room: Beatbox Room

Search for a World Beatbox Camp sign or/and Fair Play Dance Camp signs.
3 min by bus (1 bus stop, ~ €0,90 per ticket) or 15-20 min walk to WBC HOSTEL.

Together with Fair Play Dance Camp we will share this huge, safe grounds which give us the opportunity to organize workshops and all the accompanying events in one place.
Especially for the festival, we will build a great entertainment area with a in-door club and out-door grill zone.
Just at the gate of the campus you will find a large self-service shop and the safety of the participants is ensured by security service and the festival coordinators.

TRANSPORT:

The Kraków-Balice airport is situated 20 minutes away by car from the campus.
It takes 10 minutes to reach the main railway station or the Main Square .
TAXI:
A cab from the Airport costs around 55 PLN. From main railway station: around 25 PLN.
It's always better to call a taxi than take it from a taxi stop (discounts and more trusted drivers).
SHOW THIS INSTRUCTIONS TO YOUR TAXI DRIVER:
WBC HOSTEL: AKADEMIKI POLITECHNIKI KRAKOWSKIEJ, ul. Skarżyńskiego 9
WBC WORKSHOPS: AWF, Al. JANA PAWLA II 78, WJAZD OD UL NOWOHUCKIEJ (entry from Nowohucka Street)
UBER:

You can request an UBER ride from your mobile phone. UBER connects you with a driver in minutes.
✓ You don't need cash (your account is connected to your cardl)
✓ No more language problems (just enter your address in the app)
BY PUBLIC TRANSPORT:
Take a bus!
Here you will check the details and the timetable: krakow.jakdojade.pl
a one-way ride costs 3.80 PLN

a 90-minute ticket costs 6 PLN
Find out more about ticket prices HERE
WBC HOSTEL:

EXAMPLE BUS ROUTES FROM MAIN RAILWAY STATION:
Get in the bus number   129, 152, 192, 352 or 608 - get off at "OS. AKADEMICKIE PK" stop. Walk ~140m South.

WBC WORKSHOPS:

EXAMPLE TRAM ROUTES FROM MAIN RAILWAY STATION:
Get in the tram number 14 at the Main Station stop – get off at "Rondo 308 Dywizjonu" stop. Walk ~320m North.
or
Get in the tram number 52 or 4 at the Main Station stop - get off at "AWF" stop. Walk through the AWF campus (search for the Word Beatbox Camp or Fair Play Dance Camp signs).
 

MEALS :

The meals start with lunch on 5 August and ends with breakfast on 14 August.
Dinners are served in a form of a Swedish buffet (breakfasts and suppers are self-service buffets).
There are no special "vegetarian" diet. The menu will consist of at least one meat-free option for each meal.
ATTENTION: Please take care of your Food Cards. If you loose it, you will be charged with an extra fee for blocking it in a system and preparing a new one. All cards should be returned after the last meal.

WHAT SHOULD YOU BRING?
Take with you a comfortable, loose outfit for dancing and light sneakers (no high heels allowed).
In case of bad weather, please pack a spare pair of shoes (it's better to change them to avoid bringing mud/water to the hall).

For people accommodated at the campus we recommend taking towels.
As there will be a small pool on the camp grounds, don't forget to take a swimsuit as well.
It's good to have some cash with you - if you want to spend it for transportation or our food-trucks, beverages stands, gift-shops or at the barbecue zone located the campus.  

TICKETS:
Workshop`s and battles entries can be bought on the spot (cash payment in PLN or EUR) 15 minutes prior WORKSHOPS.
See you guys in a few days!
Are you ready to LEVEL UP?
.